Everlast Interval Training Round Timer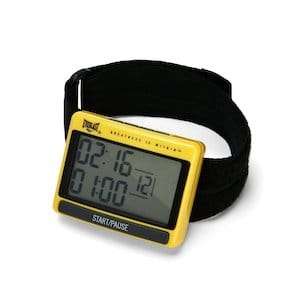 Features both dual interval timer and stop watch modes.
Comes with detachable belt clip, hook and loop arm strap and features magnetic backing to attach timer to lockers, equipment, etc.
Adjustable rest periods between rounds
Large easy to read display
Elastic velcro armband
Lock function so that keys can't be accidentally pushed during use
Large "Start/Pause" button
Choice of 0, 10, or 30 second warning for end of work round.
Choice of 3 different types of alarms, plus vibrate on/off.