Gymboss miniMAX Interval Timer and Stopwatch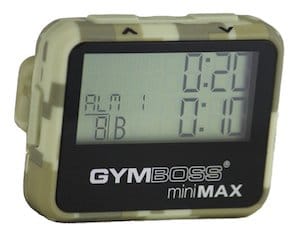 The Gymboss miniMAX Interval Timer and Stopwatch is a small, advanced interval timer with an easy to use scrolling menu. With this innovative timer you can time 1 or 2 intervals just like the regular Gymboss, or you can program up to 25 different and complex intervals of your choice. You also can save up to 20 programs for future use. In addition, there is a stopwatch and clock feature built in. Features on this new miniMAX model include a removable belt-clip, slimmer design than the original MAX, and an enhanced setup procedure for easier operation. Maximize your training to increase: Anaerobic endurance, Muscle strength/size, Cardio endurance, Increased VO2max, and Fat loss. Gymboss - Train Hard, Train Smart.
Compact, advanced interval timer tracks up to 25 different intervals between two seconds and 99 minutes.
Save up to 20 programs.
Built-in Stopwatch and Clock features. Secure and Removable Belt-clip included.
Chime and vibration interval notification; alarm duration can be set for one, two, five, or nine seconds.
Compact size powered by one AAA battery (not included)
measures 2.25 by 1.75 by 0.5 inches (55mm X 44mm X 14mm).
Sweat and impact resistant.
For use with:
HIIT
Cross Fit
Cardio
Weightlifting
Strength Training
Kettlebells
Body for Life
Running
MMA
Boxing
Martial Arts and more.